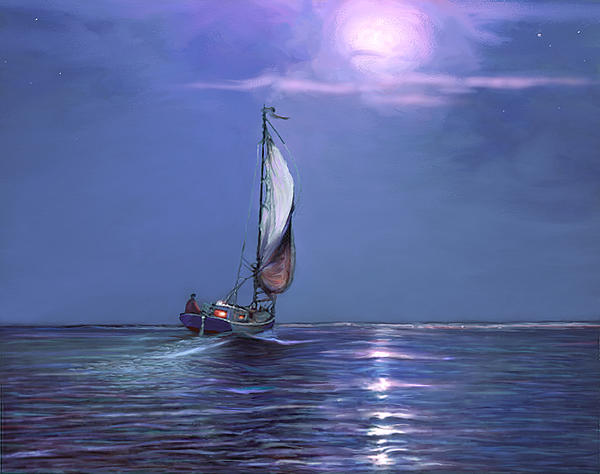 "Moonlight Sailing" by David Van Hulst
So many sea shanties are about getting back to port and the pleasures there. Whalers sang "
Rolling Down to Old Maui
" as they looked forward to leaving icy waters for the "native maids" and "tropical glades" of Hawaii. "
Rolling Home
" tells of leaving Australia behind and heading eastwards to "dear ol' England." Setting out on the voyage was, for the real working sailor, at the very least bittersweet, as loved ones (or at least the girls) were left behind, and all there was to look forward to was months of hard labor, hard weather, and hard biscuits. But ye can call me romantic: I feel more for the songs about the leaving. In the
words
of the fictional prospector-cum-philosopher, Ben Rumson of
Paint Your Wagon
, "Home is made for coming from, for dreams of going to, which with any luck will never come true." And so my favorite shanty, simply known as "The Farewell Shanty," is poetically succinct...
It's time to go now
Haul away your anchor
Haul away your anchor
'Tis our sailing time

Get some sail upon her
Haul away your halyards
Haul away your halyards
'Tis our sailing time

Get her on her course now
Haul away your foresheets
Haul away your foresheets
'Tis our sailing time

Waves are breaking under
Haul away down-channel
Haul away down-channel
On the evening tide

When my time is over
Haul away for Heaven
Haul away for Heaven
God be at my side

It's time to go now
Haul away your anchor
Haul away your anchor
'Tis our sailing time
I have repeated the first verse at the end, which is common in performance, although some insist that it shouldn't be done. Personally, I like the roundness of the repetition as well as how "'Tis our sailing time" trails out as you slow the tempo on the last line. Not being a churchgoing sort, I replace "Haul away for Heaven" with "Haul away forever," tho' I leave "God" where he is having not found a suitable lyrical replacement. Among other venues, I performed this a capella at the "Customer Service Week" talent show at work, which--like the
Lakota flute
and
Tuvan throat singing
I did in prior years--very, very few understood.
Padstow Quay, Cornwall
According to a discussion thread at the huge folksong site
The Mudcat Café
, "
The Farewell Shanty
" is a relatively recent addition to the shanty canon. It does not appear in Hugill. It is typically credited to Mervyn Vincent, who lived, sang, and taught near
Padstow, Cornwall, England
. For this reason it is also sometimes called "The Padstow Shanty." One version of the story states that Vincent discovered the words in an old
chap book
and set music to it. After he introduced it to the Stable Loft Folk Club he led, it spread throughout the maritime song community. Others say that its discoverer was Alan Molyneaux, who found it tucked away in a book as he was doing research at Plymouth Library. Molyneaux in turn passed it on to, among others, Vincent and the great
Johnny Collins
I mentioned a couple posts ago.
I don't get tired of hearing it, and I don't get tired of singing it. Depending on how you interpret it--and by this I mean either reading the text or performing it--it can be either melancholy or hopeful, or perhaps both. I, for one, was born under a wand'rin' star and would rather weigh anchor than drop it. Of course, I might change my mind after a few, uninterrupted weeks on blue water, when my socks are all molded, my hands are blistered, and the rum is gone. Yet there is nothing--EVER--to compare to starting a new adventure. Here are my two favorite versions of my favorite shanty...
Johnny Collins: "Farewell Shanty," from Shanties and Songs of the Sea. Enough has already been said about Mr. Collins back with "Leave Her, Johnny." Bad news is that this one is not on YouTube. Am I supposed to do all the work?
Gordon Bok and Cindy Kallett: "Padstowe Shanty," from Neighbors. Gordon Bok is more than one of my top musicians. He's the kind of musician I want to be. I have been lucky enough to see Bok perform twice here in Seattle. Bok grew up surrounded by music in coastal Maine. Working on boats of all kinds, including Maine's famous schooners, he learned and gathered shanties, tales, and myths from Maine, the Maritimes, and beyond. Then he began to write his own songs and stories about the vessels and their people. Bok describes himself as a "rememberer," an idea I respect and love: He is a creator and a chronicler, tasked happily with keeping alive both music and lifeway. This often lends a sort of pathos to his work, as the way of the wooden boat and the traditional fisherman often wages a losing battle with time. Bok sings in a deep, deep baritone and like me is more than a little fond of the 12-string guitar. For his "Padstowe Shanty," he accompanies himself on an instrument of his own creation, the cellamba, and is joined by fellow Maine artist Cindy Kallett. I cannot emphasize enough how much you, if you are in love with the sea and its culture, need to get to know Gordon Bok if you haven't already. The album Neighbors and his back catalog are available from the small, independent label Timberhead Music. Although it is on iTunes, I urge you to support Bok directly.
This would be a great place poetically to stop, but coming up in the next and last installment: The ultimate song of Logan.